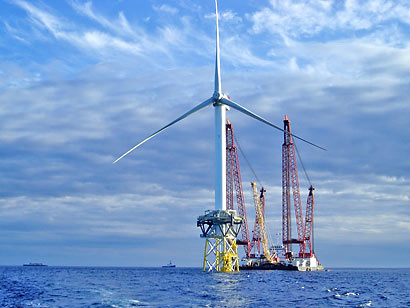 Questions should be asked about the National Renewable Energy Laboratory relationship to the American Wind Energy Association's propaganda machine. The DoE report
20% Wind Energy by 2030: Increasing Wind Energy's Contribution to U.S. Electricity Supply
acknowledges the reports dependency on data supplied by the wind industry.
The U.S. Department of Energy would like to acknowledge the in-depth analysis and extensive research conducted by the National Renewable Energy Laboratory and the major contributions and manuscript reviews by the American Wind Energy Association and many wind industry organizations that contributed to the production of this report. The costs curves for energy supply options and the WinDS modeling assumptions were developed in cooperation with Black & Veatch.
Black & Veatch cannot be regarded as an objective source on wind. In fact
Black & Veatch boasts
,
We helped launch the modern wind power industry in 1975 . . .
Questions must be raised about the validity of this DoE's "20% by 2030" report. One test of the objectivity of a wind study is how well it deals with the inflation of wind costs. Since 2004 the costs of wind projects have risen more rapidly than the underlying inflation rate. Yet the report chose to assume base line inflation rates in its future cost projections. This can only be described as a major error. The report states:
Black & Veatch analysts (in consultation with AWEA industry experts) developed wind technology cost and performance projections for this report (Black & Veatch, forthcoming 2008). Costs for turbines, towers, foundations, installation, profit, and interconnection fees are included. Capital costs are based on an average installed capital cost of $1,775 per kilowatt (kW) in 2007. After adjusting for inflation and removing the construction financing charge, this reduces to $1,650/kW for 2006.
Lawrence Berkeley National Laboratory maintains a data base on wind costs. The LBNL report for 2008 titled
2008 Wind Technologies Market Repor
t
provides a empirical basis for evaluating the accuracy of the 20% wind estimates. The LBNL study states,
Among the sample of projects built in 2008, for example, the capacity-weighted average installed cost rose to $1,915/kW, up $190/kW (11%) from the weighted-average cost of installed projects in 2007 ($1,725/kW), and up $630/kW (49%) from the average cost of projects installed from 2001 through 2004. Project costs are clearly on the rise.
The LBNL report also found that the cost of wind turbines have been rapidly rising:
Since hitting a low point of roughly $700/kW in the 2000-2002 period, turbine prices appear to have increased by approximately $700/kW (100%), on average, through 2008. Between 2007 and 2008, capacity-weighted average turbine prices increased by roughly $90/kW (7%), from $1,270/kW to $1,360/kW.
A second appearant flaw in the "20% by 2030" report is its estimate of wind capacity. The report states:
Technology development is projected to reduce future capital costs by 10%.Black & Veatch used historical capacity factor data to create a logarithmic best-fit line, which is then applied to each wind power class to project future performance improvements
The report then projects rising wind capacity for dollar spent. But the the LBNL data in the hands of LBNL reporters tells a different story,
Despite this general improvement among more-recently built projects, the capacity-weighted- average 2008 capacity factor for projects installed in 2007 (35.0%) is down slightly from that for projects installed in 2006 (35.2%), which in turn is lower than for projects built in 2004-2005 (36.9%).
Thus not only are "20% by 2030" projected cost estimates likely to be quite low, projected capacity increases may be quite high as well, and in fact the observed trend toward lower capacity may continue into the future. The LBNL 2008 report states,
performance improvements appear to have leveled off in the most recent time period, however.
Thus "20% by 2030" cost estimates for wind are likely to be off by a wid margin to the down side.
The "20% by 2030" report states
Based on the assumptions used to create the 20% Wind Scenario, providing 20% of the nation's projected electricity demand by 2030 would require the installation of 293.4 GW of wind technology (in addition to the 11.4 GW currently installed) for a cumulative installed capacity of 304.8 GW, generating nearly 1,200 terawatt-hours (TWh) annually.
Given the 2008 wind cost of $1915 per kW, the 20% goal would cost at least $550 billion, but this estimate is undoubtedly low, because it does not take inflation into account, and it assumes that 18% of the wind capacity would come from offshore, and offshore wind is considerably more expensive. The 20% by 2030 assumes a capacity factor of 40, and that is very ambitious. Realistically overly ambitions perhaps. At any rate that means that the average nuclear plant will produce 2.25 times as much electricity per unit of rated capacity as the average wind mill will. This gives us a figure of 4,3 billion 2006 US dollars for a wind array that would produce the equivalent amount of power to a 1 GW reactor. This figure would match the reactors cost, but the actual cost of wind would likely be higher, because the 18% offshore wind would be more expensive, the capacity factor of the 300 GWs of wind would probably be lower. Transmission system additions, required to accommodate wind would cost at the very least another $100 billion. It is quite clear that wind is not going to cost less than nuclear power, and according to EIA estimates future onshore and offshore wind will cost more.
Unfortunately then, the National Renewable Energy Laboratory appears to serve more as a front for the wind industry propaganda than as a source of reputable scientific research on renewable energy. For example, the NREL appears to not be researching carbon mitigation impact.
But wind carbon mitigation can be inferred from NREL sponsored research, and it does not present a happy picture
.
Wind displaces carbon efficient closed cycle gas turbines before it displaces coal, and most or all of the displaced power in the 20% scheme is likely to come from the CCGTs, In contrast nuclear displaces coal rather than CCGTs, thus money spent on carbon mitigation with nuclear is 3.5 times more effective than the equivalent sum spent carbon mitigation with wind. This fact is carefully hidden by the "20% by 2030" report.