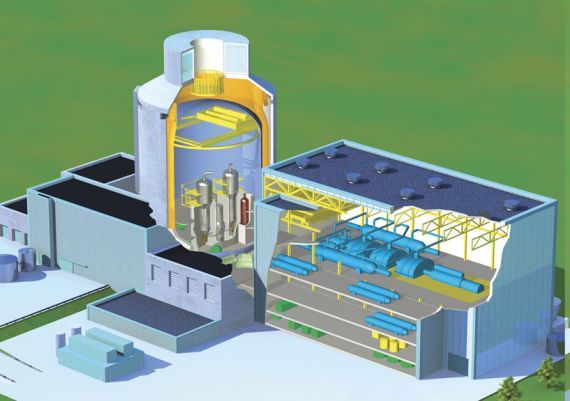 From: International Herald Tribune
Westinghouse reactor to power China plant
By Winnie Zhu
Bloomberg News
Wednesday, December 5, 2007
SHANGHAI: China Guodian, one of the five biggest electricity generators in the nation, plans to build a nuclear power station in Fujian, southeastern China, using technology from the Westinghouse Electric unit of Toshiba.
The plant in Zhangzhou city will have "several" reactors with one million-kilowatt capacity each and use the Westinghouse AP1000 technology, according to a statement Tuesday on the State-owned Assets Supervision and Administration Commission's Web site. No financial details were given.
Westinghouse and Areva of France are competing to build as many as 26 reactors by 2020 as China turns to atomic energy to cut pollution and reliance on oil. The nation needs to build two reactors a year to meet a target of generating 4 percent of its power supply from nuclear plants by 2020.
"Westinghouse has its advantages in terms of technology and reactors operation," Yao Wei, an analyst at Guotai Jun'an Securities in Shanghai, said Wednesday. "It has a good relationship with Chinese partners."
Liu Kemou, a director at China Guodian's media department, confirmed the statement, but declined to comment further. Wen Xuting, the company's spokesman, could not be reached.
Toshiba shares closed at ¥883, or $7.99, after rising 2.08 percent in Tokyo. GD Power Development, the Shanghai-listed unit of China Guodian, climbed 4.73 percent, the biggest daily gain since Nov. 6, to close at 15.93 yuan, or $2.15.
Kaori Hiraki, a spokeswoman for Toshiba, could not be reached for comment.
Westinghouse secured a $5.3 billion order from China National Nuclear in July to provide four AP1000 nuclear power reactors in Haiyang, Shandong Province and Sanmen, Zhejiang Province, both in eastern China.
Westinghouse will start building the reactors in eastern China in 2009. The first reactor will begin operation in late 2013 and the remaining three will start up between 2014 and 2015, it said on July 24.
The company expects at least 35 orders within the next decade as the United States and China expand atomic energy, Dan Lipman, the company's senior vice president, said Sept. 19.
Areva in November won an €8 billion, or $12 billion, agreement to build two nuclear reactors for China Guangdong Nuclear Power in Taishan in southern Guangdong Province, the company's chief executive officer, Anne Lauvergeon, said in Beijing on Nov. 26.
Guangdong Nuclear, the second-largest nuclear power producer in the country, will also gain access to 35 percent of production from Areva uranium unit UraMin, Lauvergeon said. The French company will supply nuclear fuel for the two reactors with 1,700 megawatts capacity each until 2026, she said then.
China plans to increase its spending on nuclear power plants by 12.5 percent to 450 billion yuan, or $61 billion, during the 15 years ending in 2020, the National Development and Reform Commission, the top economic planner in the nation, said Nov. 2.